Company Plattner d.o.o. was founded on 15.10.1992. in Backa Palanka, Serbia. From the founding to the present day our goal is to offer exclusive products of the world renowned producers that have first-class quality. Accordingly, we have become authorized distributors of ExxonMobil. PLATTNER doo is the only authorised distributor for Serbia, Montenegro, Bosnia&Herzegovina, Albania , FYR Macedonia.
Long-term cooperation with the world's leading oil and lubricants company, helped us with the adoption of the business skills and principles of large corporations.
With over 25 years experience, we strive to exceed market requirements and with a team of dedicated and engaged professional experts, we offer complete and comprehensive business solutions in sales, logistics services, marketing and brand management in our range.

We distribute our products throughout our territorial managers who are organized into three divisions:
PVL - automotiv (passenger vehicle)
CVL - commercial vehicle (commercial & agricultural program)
IND - industrial systems
ExxonMobil Elite Club
The ExxonMobil Elite Club program recognizes and rewards those ExxonMobil Lubricants Strategic Distributors throughout Europe and Africa Middle East for their commitment to strategic alignment and best business practice. Input to the award, which includes the use of this Elite Club logo, includes branding alignment and training and is announced on a yearly basis.
PLATTNER company is among top three strategic distributors for over 7years:
2013 Marketing Excellence Highly Commended
2012 Elite Club Gold
2011 Elite Club Bronze
2010 Elite Club Bronze
2009 Elite Club Silver
2008 Elite Club Silver
2007 Elite Club Silver
2006 Elite Club Gold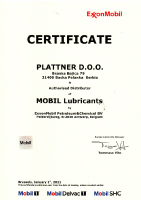 Contact us